Ingredients:6 boneless skinless chicken breast halves (cut into cubes)
6 tablespoons butter (divided)
4 garlic cloves (minced and divided)
1 tablespoon Italian seasoning
1 pound fettuccini pasta
1 onion (diced)
1 (8 oz) package sliced mushrooms (or use sliced canned mushrooms)
1/3 cup all-purpose flour
1 tablespoon salt
¾ teaspoon ground white pepper
3 cups milk
1 cup half and half
¾ cup grated parmesan cheese
8 ounces shredded Colby-Monterey jack cheese
3 roma tomatoes (diced)
½ cup sour cream
Cooking Instructions: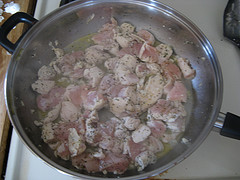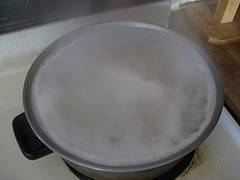 Step 1: In a large skillet over medium heat combine chicken, half of the minced garlic cloves, 2 tablespoons of butter, and Italian seasoning. Cook chicken until its no longer pink inside. Remove from the pan and set aside.
Step 2: Cook fettuccini according to package directions.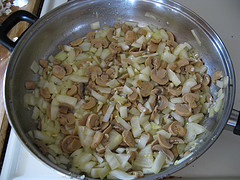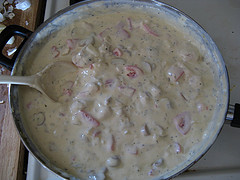 Step 3: While fettuccini is cooking melt 4 tablespoons of butter in your skillet. Sauté onion, 2 tablespoons of garlic, and mushrooms until the onions are transparent. Stir in the flour, salt and pepper, and cook for a couple minutes. Slowly add the milk, half and half, and stir until it's creamy and smooth. Stir in the Colby-jack and parmesan cheeses, and stir until cheese is melted. Stir in the chicken mixture, diced tomatoes, and sour cream. Serve over fettuccini.